From $22 per person
Coach transfers between Keflavik International Airport, hotels & guesthouses throughout Reykjavik, and Reykjavik Domestic Airport
Book Now
Prices:           JUNE 1, 2015 - MAY 31, 2016
                       $23 per person; One-way
                       $41 per person; Round-trip
                       Free; Children 11 and under traveling with an adult
                       JUNE 1, 2016 - MAY 31, 2017
                       $22 per person; One-way
                       $39 per person; Round-trip
                       Free; Children 11 and under traveling with an adult
Duration:       45 minutes
Tour Code:    FBP/01; FBP/02
The Flybus transfer coach waits curbside outside of the Keflavik Airport arrivals hall after all arriving flights, including those with late arrivals. Seats are always available so reservations with exact departure times are not necessary. Just show your booking confirmation to the Flybus kiosk attendant in the arrivals hall and it will be traded in for a ticket to board the awaiting coach. The Flybus transfer coach drops off passengers at the BSI bus terminal, followed by a connecting shuttle bus - for those with Flybus Plus tickets - for the short ride to hotels and select guesthouses in Reykjavik, as well as Reykjavik Domestic Airport. When returning to Keflavik Airport, please check with your hotel receptionist the night before your departure to reserve a seat on the transfer bus going to Keflavik airport.
Important: The Flybus does not drop-off or pick-up passengers from private homes and many guesthouses. In those circumstances, you will need to get yourself to the BSI terminal. For a full list of hotels and guesthouses the Flybus services, please visit Flybus websiteOpen new window.
Booking Directions
Click on the gold "Book Now" button above, then select your arrival date & and the number nights of Iceland, then find this add-on under 'City & Transfers' on the following screen
If your booking is not in conjunction with a previously booked Fly & Hotel vacation package, be sure to provide the name of your hotel when prompted during the booking process
After submitting your payment details, a confirmation will be sent to the email address provided at the time of booking
No refund for unused travel services or land arrangements once a tour starts
All inquiries on change or cancellation requests must be sent to us@icelandairholidays.com
Similar Packages
Explore the legendary Golden Circle with this essential tour bringing you to Iceland's most famous natural attractions.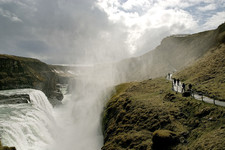 Book a tour of Iceland's famous Golden Circle followed by a relaxing visit to local geothermal baths with this exciting tour add-on!
Ride the beautiful and fabled Icelandic horse through a landscape of volcanoes, lakes and lava fields. Morning and afternoon departures available!