Price:               From $289 per person; May 15 - September 30, 2015
                         NOTE: Children 11 years old and younger are not permitted on this tour
Departures:     Daily; 8am, 10am, 12pm, 2pm;  also 4pm departures June 1 -August 31, 2015
                         NOTE: Hotel pick-ups begin 45 minutes before scheduled tour departure
Duration:         5 - 6 hours
Tour Code:      3H/01

Ever wondered what a volcano looks like on the inside? Iceland's dormant Thrihnukagigur volcano hasn't erupted for over 4,000 years and shows no signs of coming to life again anytime soon. This makes it the only place on earth where it's safe to explore a volcano from the inside, from the top crater right down to the bottom of its magma chamber!
After a 25-minute drive from the capital of Reykjavik you'll begin your approach to the volcano with a 30-40 minute moderate level hike over a genuine Icelandic lava field. Once you've reached the destination your group will use an open elevator system to descend 400 feet into the ground to begin your exploration. All equipment & required safety gear (helmets, harnesses, etc.) as well as processes have been tested extensively and approved by Iceland's Administration of Occupational Safety and Health. For a more detailed description of what to expect on this tour add-on, please see the Itinerary tab above.
Important: Be aware that passengers should be in reasonable physical shape due to the nature of this tour, including moderate walking on unpaved surfaces is included. Please remember to dress for cold weather (the crater is approximately 42-43°F year-round) by wearing warm, layered clothing, including rain and wind-proof outerwear to shield yourself from the elements, as well as hiking boots which are essential. Also be sure to bring bottled water, a camera to capture your favorite moments, and good spirits, as this tour is all about having fun!
Booking Directions
Click on the gold "Book Now" button above, then select your arrival date & and the number nights of Iceland, then find this add-on under 'Nature Tours' on the following screen
If your booking is not in conjunction with a previously booked Fly & Hotel vacation package, be sure to provide the name of your hotel when prompted during the booking process
After submitting your payment details, a confirmation will be sent to the email address provided at the time of booking
Image Guide
1 Image copyright by Iurie Belerushi 2 Image copyright by Vilhelm Gunnarsson
This exciting and unique add-on tour gives you the chance to enjoy many of the most amazing things Iceland has to offer – a great mixture of nature, history and adventure.
Here's what to look forward to when you book this Inside the Volcano tour add-on:
Total door-to-door tour duration of 5 - 6 hours
Take a scenic hike across a lava field, often compared to the surface of the moon
Get a near-A to Z about volcanoes and volcanic activity in Iceland
Taste a delicious traditional Icelandic meat soup. In fact, you can have as much of it as you want
Enjoy an amazing view of Reykjavik and the Reykjanes peninsula
Get your adrenaline pumping
Have a very close encounter with a volcano
Leave with a life-long memory of a unique and distinct Icelandic travel experience
Pick-ups at hotels and guesthouses in Reykjavik start 45 minutes prior to departure and we urge you to be ready in the lobby at that time to best prevent delay in beginning your tour. The drive then from Reykjavik to Blafjoll mountain cabin takes about 30 minutes, at which point a guide will meet and greet you at the cabin before leading the way during the hike across the lava field. The entertaining hike, which usually takes about 45–50 minutes to complete, is rated as moderate in difficulty. It's not uphill but the surface is hilly and uneven and can be demanding for those who are not used to hiking or doing longer walks. Because of this it is not recommended for those with ankle, knee, hips and/or the back problems.
After arriving at the location your group will be informed about all safety procedures when inside the volcano. You will be provided with a helmet and harness to wear, and then the group is split into smaller parties of 4–5 people. The trip down with your expert guides (who will be with you at all times) takes about 10 minutes, and the first ones to go down will usually be the first to return to the top. Your time inside the volcano will be about an hour (or less if you prefer), during which time you can take as many photos as you want. However, please note you're not allowed to take rocks and stones from the crater. 
While waiting for everyone in the group to complete the volcano visit you'll have the opportunity to enjoy a traditional Icelandic meat soup, hot coffee/tea/chocolate and perhaps some sweets. Don´t be surprised when we ask for your email – we would like to send you a quick survey to complete after the tour. Finally, you will walk back over the lava field, where the coach will be waiting for you to begin the drive back to Reykjavik.
Pick-up and drop-off between your Reykjavik hotel and the tour (this tour will not pick up passengers staying at hotels outside of Reykjavik)
Guided tour per itinerary
Gear and safety equipment (helmets, harnesses, etc.)
Sample of Icelandic refreshments
Personal travel insurance 
Meals and refreshments in tour other than those mentioned in itinerary
Please note this tour will not pick up passengers staying at hotels outside of Reykjavik
Children 11 years old and younger are not permitted on this tour
Passengers should be in reasonable physical shape for this hiking tour (25 - 30 minute moderate hike on unpaved surfaces)
Tour operator reserves the right to change or cancel bookings in accordance with operating requirements or circumstances beyond its control, such as unfavorable weather or outside conditions, equipment malfunction, natural hazards or any other similar events
No refund for unused travel services or land arrangements once a tour starts
All inquiries on change or cancellation requests must be sent to us@icelandairholidays.com
Full Icelandair package terms and conditions can be found here
Similar Packages
Coach transfers between Keflavik International Airport, hotels & guesthouses throughout Reykjavik, and Reykjavik Domestic Airport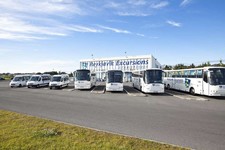 Book a tour of Iceland's famous Golden Circle followed by a relaxing visit to local geothermal baths with this exciting tour add-on!
Discover the amazing Icelandic horse on this exciting day tour combining horseback riding in lava landscapes and a multimedia theatrical show highlighting the role they play in Iceland's history and legends!